The 13th in the biennial series of Fumigants & Pheromones Conferences was held on 12-14 June 2018 in Indianapolis, USA with global representation from 23 countries, totalling 180 attendees.
Dave Mueller, president of Insects Limited and conference organizer said: "This stored product protection conference was the best we have ever had according to the evaluation sheets. We learned so much from the speakers and our guests. The two-day programme, the hands-on workshops, the conference dinner were all fun and educational. It was rewarding to look back at the last 25 years of 'Sharing Through Education'."
Topics included pheromones, pest management in food facilities, fumigation research, stored product insect research, grain pest management, food borne disease disinfection of food plants, FSMA and new rodent control technology.
Co-organisers Dave Mueller and Barbara Bass
of Insects Limited

2020 local event organiser, Keith Delport (left) talks to Ronald Chapman from Barbados during a coffee break
The keynote speaker was Dr Steve Yaninek, former department head and current professor at the College of Agriculture, Department of Entomology, Purdue University in West Lafayette, Indiana, USA. Dr Yaninek has worked tirelessly to reduce hunger throughout the world whilst also enthusiastically guiding a major entomology department to protect pre-harvest and post-harvest issues. He related these experiences in his familiar, friendly and caring style of speaking.
In addition, industry displays were available for attendees to browse through or ask questions. The third day offered two hands-on workshops. Attendees could choose to learn more about museum pest management at select local museums or go to a local food and grain facility to learn more about stored product protection.
The conference dinner was held in the world famous NCAA Hall of Champions headquarters, located in downtown Indianapolis.
At the end of the conference, it was announced that the location of the 14th Fumigants & Pheromones Conference will be at Victoria Falls, Zimbabwe in the spring of 2020 under the wing of local organizer Keith Delport of Delport Fumigation company, Harare, Zimbabwe.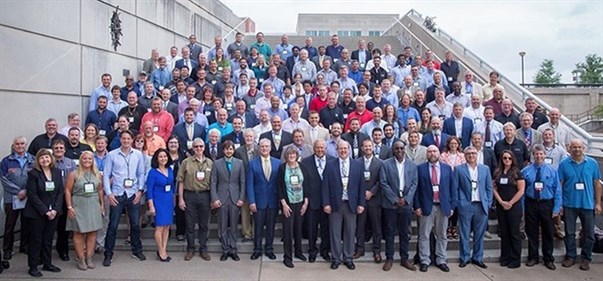 Delegates gathered at the 13th Fumigants & Pheromones Conference and Workshops in Indianapolis
A full set of photos from the event can be viewed on the Conference website.