Known widely throughout the UK professional pest control industry, PestTech 2016 was the last large industry event when Kevin Brown could be spotted manning the Rentokil Products exhibition stand. Kevin bids us farewell as he retires at the end of this year.
Certainly one of the characters in the industry, 'chirpy chappy' Kevin will be much missed. Dressed in one of his distinctive but highly patriotic outfits, Kevin was on hand on the Rentokil Products stand chatting in his usual animated manner to all those customers dropping by!

For those who don't know, Kevin came into the industry in 2008, following a 30 year career in the paint industry. He quickly moved into the role representing Rentokil Products in the professional sector, and built up some great relationships in the industry.

Kevin was fundamental in a number of industry initiatives, most notably serving as a key member of the RAMPS-UK team which secured the use of metallic phosphides for the industry and increased the level of professionalism in the approach the industry took to selling, storing and using these products.

He also served on the British Pest Control Association's (BPCA) manufacturers and distributors committee for a number of terms, as well as on the BPCA Executive Board for two years. In addition, he was a regular fixture on BPCA and National Pest Technicians Association (NPTA) training events and seminars, presenting on a range of topics from upcoming regulatory changes to how to use alphachloralose products for maximum effect.

    




Patriotic Kevin Brown in full flow at PestTech 
On to the next career!
Not one to sit at home with his feet up, Kevin is launching a new business in retirement, turning his hobby into his job by offering horticultural and garden design services.
Speaking on behalf of all his Rentokil colleagues and customers, Jim Kirk of Rentokil-Initial Supplies from Liverpool said: "Both colleagues and customers will miss the energy and enthusiasm that Kevin brought to each of the projects he was involved in. Kevin has managed our Deadline and Phostoxin brands fantastically over the years, whilst at the same time expanding our range of top quality products available to our customers.
"Whilst the UK's rat population may be sighing in relief, the rest of us are very sorry to see him moving on to new projects. We wish him all the very best in his retirement and his new endeavours in horticulture – if ever you need your hedges trimmed you know where to go!"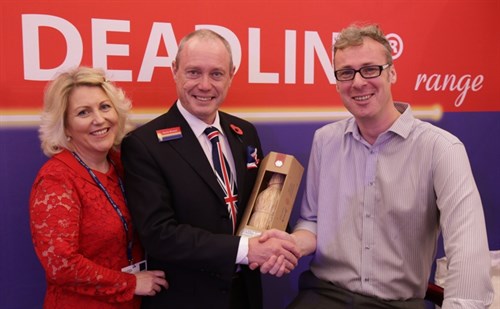 Jim Kirk (right) and Paula  Kearns (left) presented Kevin with a bottle of one of his favourite tipples!