Bristol-based distributor, Barrettine Environmental Health has achieved an unprecedented third win in a row in the 2012 Pest Best Product Award. The company's Romax Rodent Seal was voted number one by Pest readers.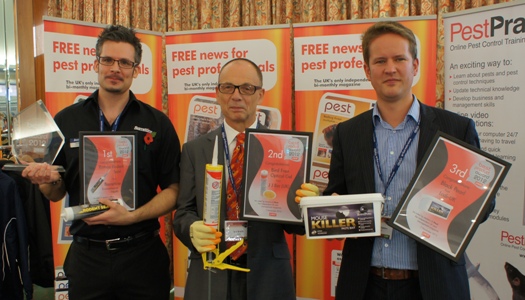 The top three products as voted for by Pest readers were from left, in first place, Romax Rodent Seal with Barrettine's David Haskins collecting the trophy, in second place, Bird Free Optical Gel with JJ Bio's Ian Smith collecting the certificate and in third Black Pearl with Roger Simpson from Lodi picking up the certificate.
In what was a closely fought battle, Bird Free Optical Gel from JJ Bio took second place with Lodi's Black Pearl mouse killer in a very creditable third place. The winners were announced during PestTech.
Barrettine's divisional director Chris Parmiter commented: "We were absolutely thrilled to win this award for the third consecutive year. Barrettine invest heavily to try and ensure we continue to offer our customers something unique which will give their businesses an edge and quality innovation is central to this. The fact that the award is voted for by the professionals makes winning all the more special."
Romax Rodent Seal joins the 2011 winner Oa2ki Aerosol and the 2010 winner Romax Mouse Box.
Pest associate editor, Helen Riby joked: "We're thinking of banning Barrettine products from the 2013 Award to give someone else a chance! Seriously," she continued, "we would like to congratulate Barrettine for getting behind the Award, encouraging their customers to take part and send in their votes. We look forward to seeing what other innovative products from the Barrettine stable will catch the eye of pest professionals next time."
The Pest Best Product Award 2012 was open to any product launched between 1 January 2011 and 31 August 2012. Products can be nominated by Pest readers, manufacturers and distributors but it is Pest readers who vote for the product they feel has been the most innovative – the product which has made the greatest improvement to their working life and/or working practices.