Barrettine Environmental Health has launched the latest generation of ULV fogging formulations for the rapid knockdown of flying and crawling insects.
Marketed under the Flymax brand, the formulation is a patented blend of cellulose polymer derived from pine pulp that is combined within a water- solvent based delivery system.
Flymax ULV does not contain traditional insecticides that affect the nervous system and therefore the product does not contribute to the building of insect resistance.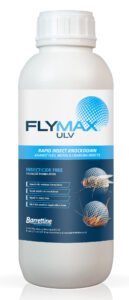 Due to the insecticide-free attributes of the formulation and the mode of action, Barrettine Environmental Health said the product has significant advantages for the professional when used in applications where insecticide resistance is suspected or where application within sensitive areas is required.
Flymax ULV can be used indoors and outdoors and due to the physical mode of action by immobilisation, the product rapidly immobilises insects, thereby giving quick knockdown.