Voted for by readers of Pest publications, it was quite incredible that there was a dead heat for the winner of this year's Pest Best Product of the Year award. In fact, in the Pest office we had to undertake several re-counts of the votes to check all was totally correct.
So – in equal first place with their SX Pro Wasp Nest Destroyer was SX Environmental. Accompanying them was last year's winners, Barrettine Environmental Health, with Oa2Ki aerosol.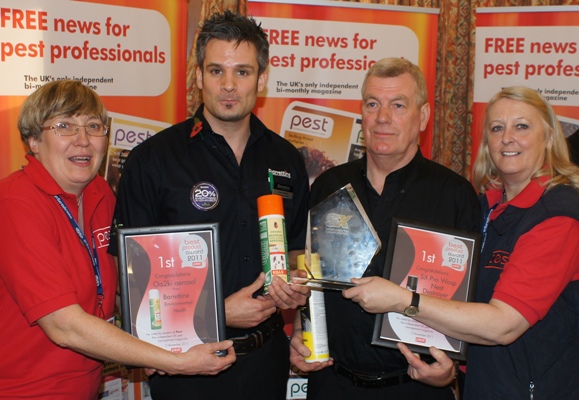 Joint winners of the 2011 Pest Best Product Award
Extreme left and right: Joint Pest publishers, Helen Riby and Frances McKim
with joint winners, David Haskins (centre left) of Barrettine
and Trevor Green of SX Environmental
In the runner's up spot was PelGar International with their rodenticide, Oktablok II.

The results of the reader's votes were announced during PestTech and the prizes award on the Peststand.

Right up until the last, each distributor thought the other had won – so a dead heat was not an outcome either had predicted.

Chris Parmiter, divisional director for Barrettine said: "We are absolutely delighted to have won thePestBest Product award for the second consecutive year. Even more pleasing is the fact that following on from Rat CP which won in 2010, is that Oa2ki aerosol was voted for this time around.

"We have once again been successful with a lower environmentally impacting product. It's great that the products and innovations we are trying to bring to market are being appreciated by the industry."

An equally surprised Trevor Green, the national technical & sales manager for SX, explained: "The SX Pro Wasp Nest Destroyer has proved to be an extremely effective and economic means of eliminating wasp's nests. We have had fantastic feedback from our clients on the product throughout the summer. We are really pleassed the product's benefits have been so well received by our customers."


Runner-up. Nic Blaszkowicz of PelGar with joint
Pest publishers, Helen and Frances

In the runner's up spot, PelGar's UK sales and marketing manager, Nic Blaszkowicz, said: "Thanks to all the readers that voted for Rodex Oktablok II. At PelGar we had two products nominated for the Best Product Award and it"s great to get the recognition. New product development is key to the industry and helps keep pest controllers one step ahead. In the last 10 years PelGar has invested heavily in R&D and introduced over 50 new products to the UK. We will continue to bring to market new and innovative products to ensure we live up to our motto of "leading the way in global pest control.""

In total, 12 products recently launched in the UK were nominated by readers as the products that have helped them most in their day-to-day professional activities. To review those nominated click here.

Voting by readers was brisk, with the majority of votes coming in via email.

"It's quite amazing we had a dead heat for the number one spot," said Pest associate editor, Helen Riby. "The only snag was we only ordered one prize-winners trophy, so I'll have to get another one organised as soon as I get back to the office! Readers certainly seem to have enjoyed having the opportunity throughout the year to nominate their favourite products and then, at the very end, to vote for the one which has contributed most to their activities.

"Watch out for the launch of next year's competition early in 2012," concluded Helen.