This summer it's been bees – or rather swarms of bees – that have been hitting the headlines in the regional press. Whether there has been a greater number of them, or maybe the general public is more aware of their diminishing numbers – who knows? Here are some of the more unusual stories Pest has spotted.
Cars seem to feature strongly in the reports of bee swarms
In Haverfordwest, Tom Moses, a ranger at the Pembrokeshire coast national park spotted what he at first thought was a 'brown splodge' on the back of a silver Mitsubishi Outlander after the owner had stopped to go shopping. On closer inspection he realised this was a swarm of bees, numbering, he thought, more than 10,000.
All ended well, as Tom called the Pembrokeshire Beekeepers' Association and two beekeepers helped remove the swarm by luring the bees into a cardboard box.
The Mitsubishi Outlander was covered with bees
© South Wales Evening Post
The bees were lured into a carboard box for relocation by
a member of the Pembrokeshire Beekeepers Association
Meanwhile at Basingstoke Malls in Berkshire, this swarm had an eye for a sportier model setting-up camp on the wheel arch of a Porsche. Basingstoke-based Ridtek Environmental was called in and managed to capture the swarm in a bucket before releasing the bees into the wild.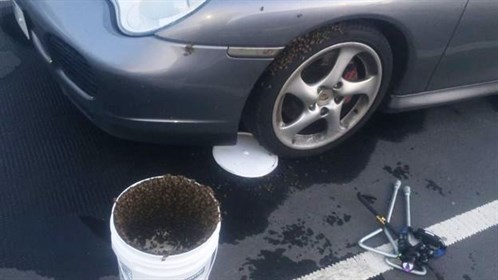 To the rescue – Ridtek persuaded the bees out of the wheel arch on the Porsche into a bucket
© Ridtek Environmental
Not such a happy ending 
You have to feel for Ian Bright who owns Pest ID in South Woodham Ferrers in Essex. He had read in his local paper of the plight of residents, including young single Mums, at one of Chelmsford's newest housing estates who felt trapped inside their own homes because of a swarm of honey bees. The bees were high up and coming into the flats and at least one child was hospitalised after being stung.
The residents asked the pest control department from Chelmsford City Council to visit the property, but they advised honey bees were a protected species and that pest control cannot be used in this instance. A suitably-insured licensed bee keeper would need to be involved to work at this height. Unfortunately no bee keeper was prepared to tackle the swarm at this height.
At this point, Ian, our hero steps in, realising how petrified these hard-up single Mums were, and eliminates the colony free of charge.
High up, these bees were getting into the flats
© Essex Live
Ian our hero solved the problem but was not ready
for the social media backlash
As professional pest controllers we all know that in such circumstances, where bees are causing such a risk they can be eliminated. Unfortunately the residents of Chelmsford failed to realise this. Poor Ian said: "There was an absolute backlash on social media – the statements were frankly brutal. I was likened to a terrorist from the recent attacks in Nice." So much for your knight in shining armour?
And finally, a wasps' nest looking to be posted
A man was left outraged after Royal Mail 'ignored his calls' to remove a wasps' nest from a nearby post-box.
Leslie Johnson, 64, who lives at Pickup Bank near Darwen, Lancs was horrified when he discovered wasps had made their nest inside his local post box.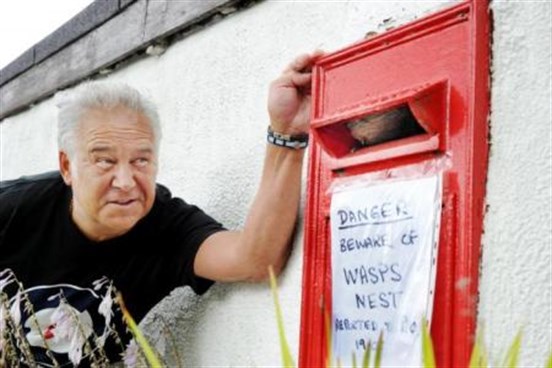 Leslie Johnson put up his own sign to warn residents of their latest neighbours
© Lancashire Telegraph
He contacted Royal Mail on several occasions and despite assurances it would be sorted, nothing was done. Worried someone would be hurt he has put up an A4 sign warning residents and reported the issue to Bolton Council who sorted it straight away. Leslie said: "He had a trigger gun, two puffs of smoke and he was done, it was a five minute job."
Well done Bolton Council.