Bill Worthington, a 75-year-old retired civil servant, from Bedbury, Cheshire, has pleaded guilty to causing a grey squirrel 'unnecessary suffering'.
On 17 January, Stockport Magistrates' Court heard that Mr Worthington, known locally as 'the verminator', trapped the squirrel and shot it twice at point-blank range with a .22.
He assumed it was dead, and went out shopping. On discovering it was still alive when he returned, he shot it a further three times. RSPCA officers turned up after a tip-off from a neighbour and took the squirrel, which was still alive but 'unresponsive', to a vet to be put down.
Jamie Foster, a solicitor advocate specialising in animal welfare and fieldsports law, told Shooting Times: "This is yet another example of the RSPCA's complete lack of perspective in relation to prosecutions. It cannot be said that taking a 75-year old man to court for attempting to kill a squirrel that he had trapped is in the public interest. It is a waste of court time and public money."
"The suggestion that he should have taken the squirrel to a vet to have it put down is absurd. The journey and the time spent in a waiting room with other animals would have added to the animal's suffering."
"In Raymond Elliot's case [Mr Elliot drowned a squirrel in 2010 and was prosecuted by the RSPCA], the RSPCA argued that a trapped squirrel should be shot. That is exactly what Mr Worthington has done and he has been prosecuted."
He added: "If people do not want to be prosecuted they should shoot squirrels without trapping them. This way, even if the squirrel is injured and caused suffering, no prosecution can result because the creature has never come under the control of man. This is the sort of absurd result that the RSPCA's new-found animal rights agenda under the leadership of Gavin Grant is creating."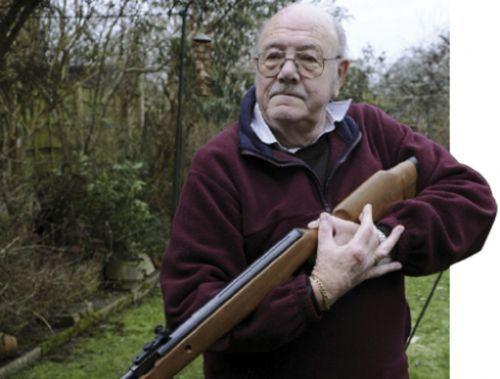 Retired civil servant, Mr Bill Worthington
Source: Thanks go to Shooting UK for posting this story