It was a full house for the Society of Food Hygiene and Technology event at the Bristol Golf Club on Thursday 28 February. Around 75 speakers, delegates and exhibitors attended the BPCA-supported conference which took as its theme 'Control or management: the changing environment for pests.'
Delegates from across the food sector, including household names such as ASDA Walmart, Tesco Stores, Unilever, Dairy Crest, Greggs, WH Smith and Premier Foods, gathered at the Bristol Golf Club to meet pest control experts, or, as the conference heard maybe a better description these days is pest management experts.
The debate about how this industry should be described isn't new but with the latest edition – Issue 8 of the British Retail Consortium (BRC) standard switching mostly (but not always) to pest management, it was certainly topical for the audience gathered in Bristol.
SOFHT's pest management events are some of its most popular. This one was supported by the British Pest Control Association (BPCA) and included a small exhibition which also proved popular with delegates. Unfortunately the planned drone demonstration by MITIE pest control had to be cancelled because of inclement weather – rain and high winds. Indeed for delegates who were unfamiliar with the venue it was something of a surprise when, by mid-afternoon, a fabulous view of both Severn bridges appeared out of the mist.
Speaking on behalf of the Confederation of European Pest Management Associations (CEPA), Henry Mott soon put his audience right – contrary to his talk's title he didn't know what would happen with Brexit but he did emphasise that with no UKUK representati in the European Parliament, nor the council of Ministers, CEPA' lobbying work would be even more important to the UK pest control sector than it currently is.
From PelGar International, Alex Wade's whistle stop resume of how rodenticides have come to be classed as toxic to reproduction was both entertaining and informative. The result has in many ways opened up new opportunities for better pest management with 'lower strength' rodenticides becoming a helpful control tool for sensitive areas.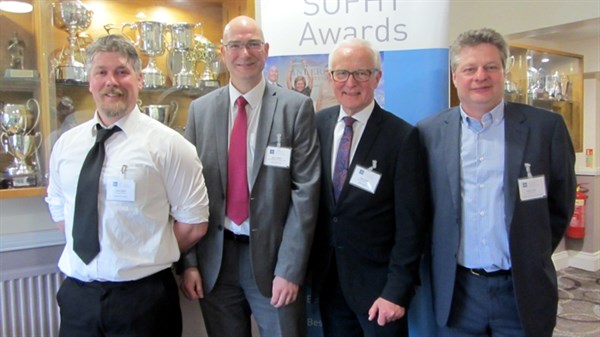 Left to right PelGar International's Alex Wade, FERA's Barry Hilton, SOFHT's Alan Lacey who chaired the event
and, representing CEPA, Henry Mott from Conquer Environmental Services
Matt Davies (Killgerm) and PhD student Federica Boiocchi's double act raised interesting questions about the pathogens carried by arthropods in hospitals and homes. Whilst, as Matt pointed out, scientists cannot conduct experiments on people to prove that diseases are transmitted the new work being conducted by Federica on arthropods in people's homes is already revealing that non-pest species can carry harmful bacteria.
John Simmons from Acheta Consulting emphasised the importance of monitoring for pests as an early warning system. Monitoring and trend analysis is essential as it drives the inspection process which triggers any necessary control programmes. He maintained that pest control was like quality control – a reactive process, whilst pest management, like quality assurance, was proactive. Pest control aims to kill the infestation once it has arrived. Pest management aims to prevent infestations occurring in the first place.
The final session of the day by Brian Duffin from Rokill saw Brian enthusing about stored product insects (SPIs). He showed plenty of practical pictures and shared his considerable expertise in combating these small, but often very challenging insects. He stressed the importance of designing out the problem and the need for greater hygiene and better cleaning practices and not just in the places you can see. It's what you can't see that is usually the source of an SPI problem.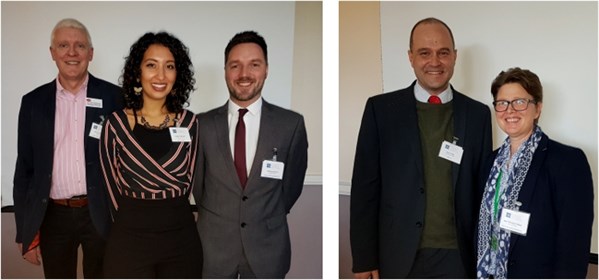 Left to right Dr John Simmons from Acheta Consulting, PhD student, Federica Boiocchi from Aston Unversity,
Dr Matthew Davies from Killgerm, Brian Duffin from Rokill and, representing CRRU,  Dee Ward-Thomson from BPCA