The British Pest Control Association has negotiated a discount on novel coronavirus antigen detection kits for the UK pest control sector, after feedback from several member companies,
While COVID-19 tests are freely available to UK businesses via the government's testing programme, many pest professionals told the BPCA that it is impractical for them to access the tests.
The government is providing many businesses with free testing kits for COVID-19 very quickly, however, when the government sends out kits, they contain 25 swabs and only one Colloidal Gold buffer solution. Once the buffer solution is opened, it has a very short shelf life, meaning an entire team of 25 need to be in the same place at roughly the same time.
The tests BPCA has secured the discount on come individually packed with buffer solution, giving pest professionals the option to do tests at home without travelling to a central location to be tested.
The BPCA said tests are +98% accurate, with results in 15 minutes, making them ideal for testing before work or between client's sites.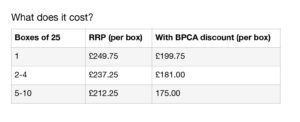 While this is by no means the cheapest solution on the market, BPCA said it believes it is a solution that will appeal to many pest management companies, because:
It can be taken individually at home or in a van;
The tests are individually packaged and easy to distribute;
They can be taken in multiple ways without the need for an invasive nasal swab; and
They arrive from the supplier next-day.
In a statement, the BPCA said: "We've opened up this offer to any pest professional in the UK to try and support as many people as possible."
To receive the discount, you need to use a special BPCA email address – bpca@bestie.uk.com. You can also contact the team at Bestie UK on 07894 531 205 or click HERE.