With pests in food businesses able to damage and contaminate food, causing economic loss and threatening public health, BPCA is running a dedicated webinar on the subject on Wednesday, July 21, at 12.30pm.
In this webinar, BPCA technical officer Natalie Bungay will look at the main species you are likely the encounter, the causes of infestations, control options and legislative requirements you need to consider.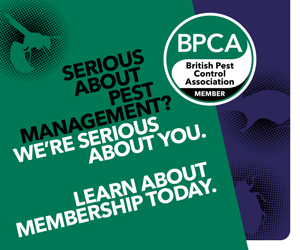 Ms Bungay said: "One of the reasons we control pests is the incredible damage and contamination they cause to foodstuffs, raw materials and finished products, making them unfit for human consumption.
"In this presentation, we will take a look at some of the biggest offenders, prevention and control."
Questions can be asked using the Q&A function and will be answered by Ms Bungay throughout the live webinar.
This online webinar is free and open to anyone on the BPCA Affiliate Scheme.
CPD POINTS
One BPCA Registered point
One BASIS PROMPT point
To book your place on the webinar, click HERE.