The Portuguese plastics company, Plastdiversity, has recently completed a major investment developing new modern premises in its home town of Marinha das Ondas, about 20 minutes drive from the popular resort of Figueira da Foz on Portugal's Atlantic coast.

Outside the scale of the building work is clear. The new factory B adds 5,400 square metres of space to the Plastdiversity operation in Marinha das Ondas.
Best know in the pest management world for its range of innovative rodent bait boxes such as Apollo, Neptuno and Beta 2, Plastdiversity also manufacturers a range of plastic products for the home and garden market, including universal car mats, buckets, laundry baskets and doormats. Pest control products however account for the biggest proportion of the business.
Official opening
On Saturday 16 June, the new factory, which has been operating for just two months, was the venue for a spectacular opening event attended by almost 200 customers, suppliers and employees. Plastdiversity exports to 84 countries around the globe so this was a truly international gathering with around 50 international visitors from more than a dozen countries. Guests travelling the furthest included those from Canada, the USA, Singapore, India and Israel. Naturally, Europe was well represented with guests from Belgium, Bulgaria, Germany, Italy, Poland, Romania and the UK. One of the Canadians from Nova Scotia joked – on a clear day you can see my house from the new factory!
The development of the Plastdiversity business is a great example of just how global the pest management sector has become. The company was established some 21 years ago by Moisá©s and Isabel Francisco since when it has grown steadily and today employs 40 people.
 

 


Moisá©s Francisco welcomed guests
and employees to the official opening
 


Joá£o Ataá­de, the local Mayor, 




also spoke


Ana Francisco thanked her
parents, guests and employees
It remains very much a family business and it was Moisá©s who formally welcomed the guests saying: "This has been a very significant development for our company which was made possible through a joint investment by the company and the EU-supported, Portugal 2020 programme."
There was also a short presentation from Joá£o Ataá­de, the Mayor of Marinha das Ondas, who said that it was an honour to be present and to have been able to help with the development and that the family should be very proud of the business they have built.
The start of the Plastdiversity rodent bait station business can be traced back 18 years and it was Moisá©s and Isabel's then five-year old son, Marcello Francisco, who was the inspiration, as his older sister, Ana, explained: "Marcello wanted an ice cream for dessert and when it arrived it was in a pirate treasure box. My father looked at the shape and used it as the design for the first Plastdiversity bait station."
She continued: "Some of the international companies represented here today have been working with us since the beginning. Today many are close friends, almost family." And she concluded: "This business has been built from zero. It has been a lot of hard work and there have been difficulties. Today we are in the position we are in thanks to my parents. I am proud to say that the relationships we have with our clients, partners and suppliers is much more than business. Thank you all for being here today and for all your support over the years."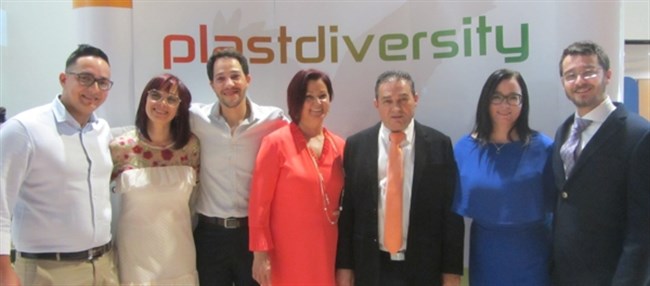 The Plastdiversity team, a very family affair! From left: Joá£o Francisco (son), Ana Rainho (employee), Ricardo Fonseca (nephew), Isabel and Moisá©s Francisco, Ana Francisco (daughter) and Marcello Francisco (son)

One end of the factory space was transformed into a smart dining are for the opening. If bait station sales ever fail, the factory could be hired out as a trendy wedding venue!
PlastDiversity from DigitalZoom on Vimeo.