This year PestTech was booming with what seemed like thousands of visitors! Once again the Pelsis stand was packed from the start of the show to the end of the day with customers and prospects eager to find out what new products we had to offer.
New products for Edialux!
New on the stand for Edialux this year was Steri-7 EXTRA, NARA Spray and Ratwall. Find out more about Ratwall and Steri-7 XTRA.

NARA Spray is a brand new product on the pest control market that is part of the the well-known NARA Lures, Blocks and Liquids ranges. NARA Spray is used to lure rodents into boxes by spraying a meat scent along the floor and into a bait box. It's the first of its kind on the market, with more flavours to follow in the future!

New Network products!
The Network brand showed off the brand new Eagle Eye and Raise the Net ranges.

Eagle Eye is a brand new range of scaring products for birds. Simply install Eagle Eye at the highest point of a problem area and let the sun do the rest of the work! As the mirrored part of the Eagle Eye spins around it reflects light that irritates bird which makes them fly away.

Raise the Net is the perfect addition to your bird control offer. Using Raise The Net products will save you time and money on those difficult netting jobs. The range is made up of incredibly strong and versatile stanchions compared to all other alternatives on the market.

The latest look from Insect-O-Cutor
This year we once again showed off our stunning Insect-O-Cutor range which includes the newly launched Halo Shades range and the contemporary Aura Black. These units are great additions to our already stylish flykiller range and are the perfect addition to front of house areas.

New and on display from the Edialux range –
Steri-7 XTRA, NARA Spray and Ratwall

 

Mark Wenman shows-off the new
Eagle Eye bird scarer
Pest Best Product Award 2016!
Not only did we get the chance to show off new products at PestTech but we are very proud to announce that we had two products come in second place for the Pest Best Product Award 2016. The SX Dotz and Insect-O-Cutor Aura Black were voted for by Pest magazine readers, and we would like to say a big thank you to all who voted!

We pride ourselves on being at the forefront of innovation, and that's exactly what these products are, innovative and unique.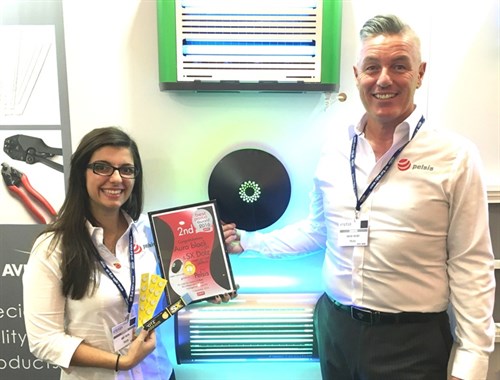 Amy Frith (left) accompanied by Dave Frisby show-off the two runners-up products –
SX Dotz and Insect-O-Cutor Aura Black – from the Pest Best Product Award 2016