PestTech 2017 had a fresh new feel to it following the move from the National Motorcycle Museum to the Ricoh Arena. With the move to the Ricoh Arena, the PestFix stand took pride of place at the entrance to the exhibition hall for the team to meet and greet show visitors.
The now familiar PestFix video wall featured all of the latest offerings from the PestFix catalogue. But visitors had been invited to call by the stand to sit down with co-directors, and brothers, Dan & Matt England at their Bird Control Clinic which was held on the stand throughout the day.
Experiences shared in the clinic
Visitors were encouraged to share their bird control problems at their customers' sites for the PestFix team to analyse and help solve. With their extensive knowledge and experience, coupled with the broadest product offering in the industry for all things relating to structural & urban bird control, Team PestFix is the place to bring your avian woes.

Hot topics of the day were varied, ranging, from pigeons infesting ivy growing up the faá§ade of a luxury hotel, through seagulls causing damage to a prison roof, to Canada Geese trampling crops in Sweden.
Contact us for advice anytime
Whilst the team promoted the clinic concept at the show, Dan England pointed out that this was not a one-off event, as their now legendary support is on offer to customers all the time. Explained Dan: "We pride ourselves on being the most accessible distributor/manufacturer of bird control equipment and solutions in the UK market. We invite both existing and new customers to pick up the phone at any time to discuss their bird control challenges with one the experienced team at our Littlehampton HQ. Our interest in helping you, and your customers, reduce the cost of bird control and mitigate the risks associated with bird infestations continues ad infinitum. This is not just a show gimmick, we are here to help by phone, email and in person on site at any time. Why not give us a try?"
Tom joins the team
PestTech was a first for new employee Tom Dacey, who joined the growing team in September as a key account manager. Tom supports a number of growing accounts currently working with the company to source their pest control products and consumables.

His take on the show can be summarised as: "A fantastic day where the industry comes together under one roof to network. It was great to see the industry, pretty much in its entirety, with many familiar faces as well as an opportunity to connect with potential new customers and suppliers."

Tom Dacey joins the PestFix team
Winner in 2016
At PestTech 2016 the company received the prestigious award of Best New Product of the year from the readers of Pest magazine. This accolade was for its Agrilaser Autonomic laser bird dispersal system, for which we thank you again.

Agrilaser now installed in over 100 sites in the last year
Over the past 12 months the Agrilaser Autonomic installed-base has surpassed 100 sites in the UK and PestFix continues to work hard to support its accredited installation partner base with leads, sales support and on-site technical assistance as the installed base continues to grow. The uptake for this product has been astounding states Matt England: "Installations have been across a broad spectrum of clients from distribution warehouses to vineyards. This versatile laser solution continues to uncover new applications daily."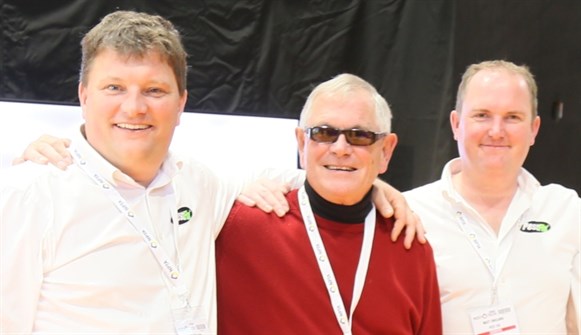 A real England family affair. Brothers Dan (left) and Matt (right) with their father, Joe