Birmingham-based Busters Group has pledged its allegiance to Queen and country by signing up to the Armed Services Covenant. The Covenant is a promise from the nation that those who serve or have served, along with their families, are treated fairly.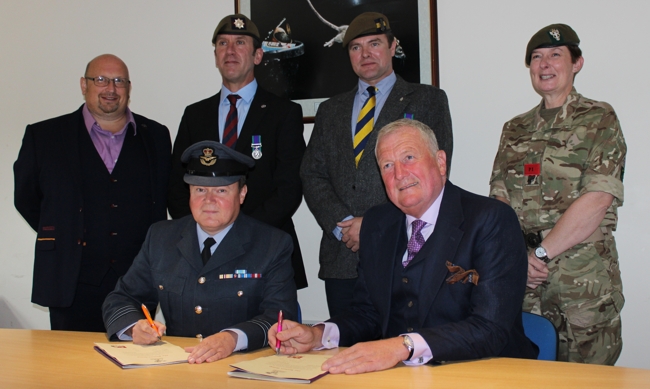 Seated and signing the covenant are Wing Commander Paul Bell (left) and Dave Nash, owner of the Busters Group. Standing from left are Darren Brough, Steve Milton, Daniel Woodgate and Julie Barber all from the Busters Group
To demonstrate its commitment to the Covenant, the Group has become a bronze award holder under the Defence Employer Recognition Scheme. In practice this means the business has pledged to support existing or prospective employees who are members of the armed forces community and to promote being armed forces-friendly by being open to employing reservists, armed forces veterans (including the wounded, injured and sick), cadet instructors and military spouses/partners.

The Defence Employer Recognition Scheme (ERS) works with businesses, local authorities, charities and community organisations to support the forces through a range of services, policy and projects.

Dave Nash, founder and managing director of Busters Group, said: "In an uncertain world and at a very challenging time for our armed forces and security services, we wanted to show a commitment to those who put their lives on the line so we can live in freedom."

He added that the move was a natural development for an ethical and pro-active employer which is now the largest independent pest control firm in the Midlands and said that he hoped other businesses would follow his company's lead.

"The armed forces need as much help as possible and we hope our committing to it will further spread the message and in turn see more businesses do their bit to help our soldiers, navy and air force personnel," he added.

There are approaching 1,400 businesses currently listed as Defence Employer Recognition Scheme bronze award holders. Perhaps not surprisingly that list includes Rentokil and the global facilities management business, ISS World. The only other businesses involved in pest management that we could find were Mitie Pest Control and two smaller London-based businesses, Combat Pest Control and West London Pest Control so there is plenty of scope for other pest management companies to get involved.

Across the pond in the USA, the National Pest Management Association (NPMA) has taken support for the military to a much higher level. Early in 2015 the NPMA introduced its PestVets group. PestVets, actively promotes the recruitment of veterans to the pest management industry through its 'We Hire Heroes' campaign.

The Association has also created a PestVets Veteran of the Year award to honour a veteran who has helped strengthen the role of pest management. They are recognised for their outstanding contributions to the industry and to the communities they serve.

With recruitment of the right people becoming more of a challenge, perhaps this is something that our UK trade associations should look to learn from our US cousins.