Six well-known and well-respected industry leaders were inducted into the Pest Control News Hall of Fame at the dinner immediately following PestTech 2010 on 3 November.
In 2007 thePest Control News Hall of Fame was introduced to recognise those individuals whose contributions have been 'over and above the call of duty' and so have made a lasting impression on the European pest control industry.
Jonathan Peck, managing director of the Killgerm Group, was delighted to welcome six new members.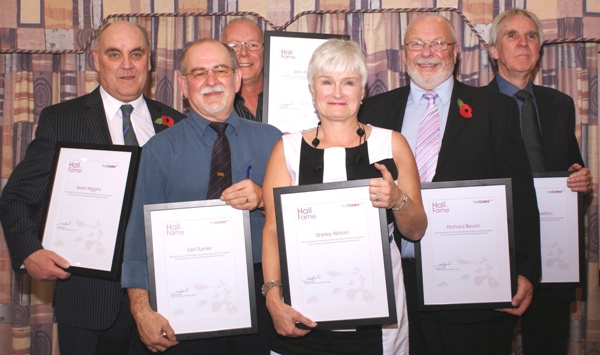 Left to right in the picture above, joining the group this year are:
Kevin Higgins, who began his pest control career as an army health inspector, followed by setting-up his own servicing company (Baron Nationwide Services). He is also a past president of BPCA and now BPCA membership manager.
Iain Turner, well-known for his bird control activities, he is now technical support manager for Alpha Pest Control. As well as being a director of NPTA, Iain is also an RSPH tutor.
John Davison, who not only works in the pest control team at Charnwood Borough Council, but is also chief executive of NPTA as well as editor of Today's Technician.
Shirley Wilson, now with BASF Pest Control Solutions as UK business manager, Shirley made her mark in the 21 years she was part of the Sorex team, where latterly she was responsible for urban and agricultural pest control sales in the UK and Ireland.
Richard Bevan, pest control manager for Bristol City Council since 1984, Richard is also chair of the Western Pest Liaison Group and a member of the CIEH National Pest Advisory Panel (NPAP).
John Charlton, most well known as technical director for Rentokil Pest Control, but he now acts in an independent industry consultancy capacity.
Previous inductees into the Hall of Fame are:
2009 – click here to view
Ed Allan, Paul Butt, Dr Gareth Capel-Williams, Dr Graham Dodd, Dave Oldbury and Dr Gai Murphy.
2008 – click here to view
Dr Alan Buckle, Bruce Blything, Clive Boase, Dave Pinnigar, Frances McKim and Fiona Murphy
2007
Dr Moray Anderson, Xavier Bonnefoy, Malcolm Hadler, Tony Hudson, John Kay and Adrian Meyer