Friends and colleagues gathered at the RSPH's offices near Oxford Circus, on 23 September to wish Dr Chris Suter, director of qualifications and certification, a happy retirement.
Colleagues came not only from the Royal Society for Public Health (RSPH), but also several from those organisations Dr Chris Suter has worked with over the last 16 years. Chris emphasised, more than once during the afternoon, that this was not his retirement, but "the next step in his career."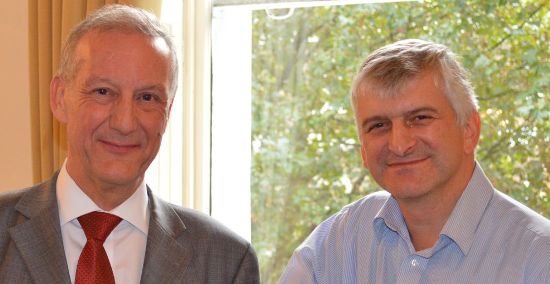 Farewell but not goodbye to Dr Chris Suter (left) with Richard Burton  
He is extending the work he currently does with Pearson Education, the educational materials publisher. In addition, he will also continue to work on the development, and then oversee the implementation of, the CEN Standard for Pest Control. So he will not become a stranger to the industry.
Dr Richard Burton described Chris's career not just during, but leading up to, his years with RSPH. A number of the assembled group stepped forward to say a few words during the afternoon. All projected a common message, that Chris had the ability to inspire those around him. He saw the 'big picture' with clarity and worked calmly towards attaining the results that all were looking for.
Richard Strand, the director of BPCA at the time of the merger of the old BPCA certificate with the RSPH qualification, recognised these qualities when he said: "Working with Chris made a difficult and sensitive project seem easy! Bringing the two qualifications together had eluded the pest control industry more than once during the previous 20 years, yet with Chris on the project the pieces seemed to drop so easily into place."
We are advised by Cathy Griffiths, one of RSPH's food safety audit team, that, if we miss Chris, all we have to do is to visit our local fish and chip shop where it is odds-on that the Level 2 Food Safety certificate on display in the shop will have been signed by Chris!