Yes the votes have been counted and this year's winner of the prestigious 2019 Best Product Award as voted for by Pest readers is the Muribrom wrapped rodenticide block from 1env Solutions.
There were 11 fabulous new products in the 2019 awards covering a wide range of pest management activities. Interestingly this year two 'green' insect control products made the final but there were no chemical insecticides on the shortlist. Application, operator protection and monitoring equipment all featured, but it was rodent products that scored the most with five of the 11 finalist places.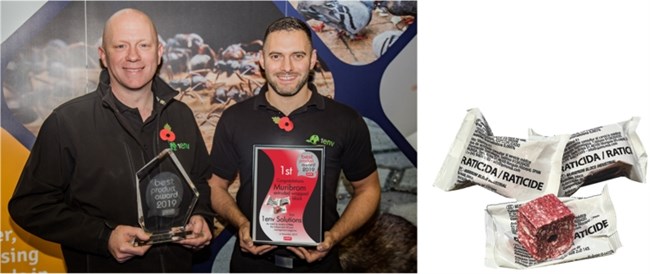 Proud winners, Darran Ledbeter (left) and James Mendoza collect the 2019 Best Product Award trophy
and certificate for Muribrom at PestTech
The winners were announced on 6 November at PestTech 2019. Taking first place was the innovative Muribrom wrapped block, which say 1env is ideal for damp conditions where slugs and snails might be a problem. The plastic wrapper comes pre-printed with information on the product and prevents slugs and snails accessing the toxic block.
There was nothing to separate the two second most popular products so two second place certificates were awarded:
This is the third year running that 1env has had a product in the top three. James Mendoza, operations director at 1env commented: "Myself and the team are over the moon to have won the Best Product Award. We had some fantastic feedback over the past year for the Muribrom wrapped blocks and we feel that the award is truly deserved. We would like to thank everyone that has supported the product and voted for it.
"It's so much more rewarding when a product is voted as best product by the people who have actually used it. This highly respected award will take pride of place along with other award winning products that are only available from 1env."
| | |
| --- | --- |
| Glenn Pickering (left) and Phil Bowman collect the second place certificate for their AR8 Pro telescopic dusting lance which has proved very popular since its launch this summer |    RatMat was joint second. From left Killgerm's Louise Coldwell, inventor Toby Bateson and Francis Dufort from Dufort Associates who worked with Toby on design and product development |
From Lance Lab, managing director, Phil Bowman said: "First of all I would like to congratulate 1env on winning the Best Product award for 2019. As for us, everyone in the Lance Lab team is delighted to have received the award for second place (ending the long wait since our previous award in 2014). Thank you to all who voted for the AR8 Pro Dusting Lance. I would also like to say thank you to Frances and Helen at Pest for organising the competition and awards."
Last year Killgerm took first place with Sakarat D liquid bait so it is the second year running that Louise Coldwell head of sales & customer services has been called upon to collect a award. She said: "We are very proud that Toby has been awarded second place in the 2019 Best Product Award! The RatMat is a superb, unique product and at Killgerm we are thrilled to have a great product like this to sell. The recognition is truly deserved," concluded Louise.