With reader's votes very close, Romax Muskil whole wheat bait took the winner's spot in this year's Pest Best Product award. The results were announced during PestTech and the presentations made.
The fifth year of the Pest Best Product Award saw Barrettine Environmental Health return to challenge for first position; a position they had made their own in three of the previous years. But, with two other Muskil products (Muskil wax blocks and Muskil pasta bait) also nominated, was it going to be a case of splitting their vote? In the event their popular Muskil whole wheat bait proved to be Pest reader's number one choice.
A delighted David Haskins, sales director at Barrettine said: "This is the fourth time we have had the privilege of winning this award. We at Barrettine pride ourselves on innovation and we would like to thank all our customers who voted for Romax Muskil whole wheat bait as they clearly appreciated its benefits in use."
Launched just prior to PestTech 2013, the Romax Muskil products contain difenacoum and also bromadiolone – both second-generation anticoagulant rodenticides.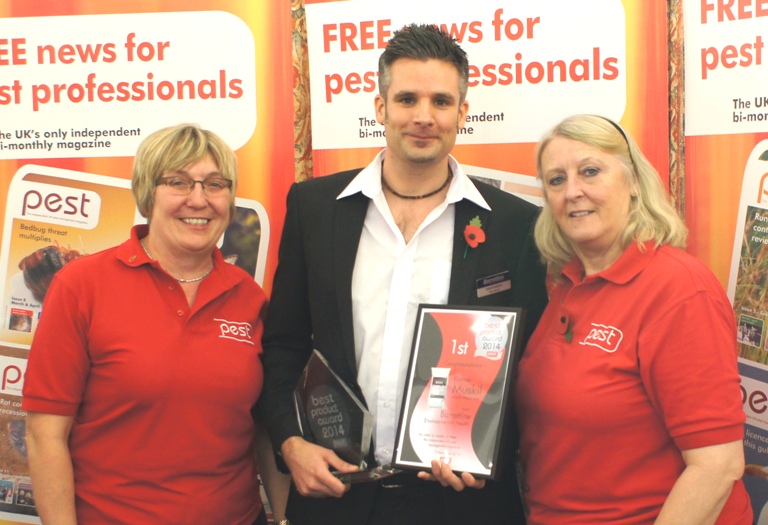 The winner of the 2014 Pest Best Product Award collects the trophy and certificate.
Left to right: Pest associate editor, Helen Riby with David Haskins, Barrettine sales director and 
Pest editor Frances McKim 
In what was a closely fought battle, Bird Free gel, presented in magnetic dishes, from Killgerm took second place. No stranger to this awards presentation, Ian Smith, the supplier of Bird Free gel was placed second in 2012 with a forerunner to this current gel.

Readers may remember that last year they voted in large numbers to ensure the award went to the telescopic lance XL8, manufactured by County Down-based Lance Lab. This year the company was once again on the podium, as their Mini Flex flexible hose took third place.

Pest editor, Frances McKim joked: "We are thinking of banning Barrettine and their products from this award as they have on it on so many occasions. Obviously their customers like their products and are prepared to say so by voting for them, as the results are based entirely on the votes cast by Pest readers. However, it is good to see that products who have proved popular with readers in previous years continue to do so."

The Pest Best Product Award 2014 was open to any product launched between 1 January 2013 and 31 August 2014. Products can be nominated by Pest readers, manufacturers and distributors but it is Pestreaders who vote for the product they feel has been the most innovative – the product which has made the greatest improvement to their working life and/or working practices.


Peter Fielding, Killgerm sales director (left) with Ian Smith from Bird Free receives the award for second place for Bird Free in magnetic dishes  
  

Glenn Pickering (left) and Phil Bowman (right) from Lance Lab with Já¶rg Lembachner of Birchmeier accepts the award for third place for Mini Flex hose