Outcast Ant is a new self-contained ready to use delivery system for Syngenta's ant control gel bait, which provides professional pest controllers with a clean and effective ant control solution.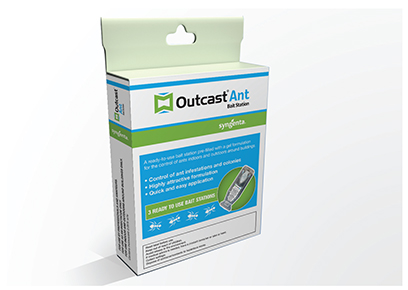 The simple to use bait station is instantly activated, by tearing off a tab and squeezing the gel into the bait compartment.
Strategically placed in areas of problem ant activity, the highly attractive ant control bait remains contained within the station, where ants will readily feed. The gel bait stays moist and attractive to ant feeding, helping to achieve effective control of colonies.
When ant activity ceases, the Outcast Ant bait station is simply picked up and disposed of – with no mess to clear up and no bait left on the site.
Professional pest controllers can use both Advion Ant Gel and Outcast Ant Bait Station to undertake a full ant control programme in homes and businesses.
Visit Syngenta at next week's PPC Live even in Harrogate to find out more about Outcast Ant and pick up a voucher for a free sample.