Bayer is launching a new first generation rodenticide on their stand at PestEx. Pest controllers will get the first opportunity to see this latest rodenticide innovation when this product will be unveiled.
This new rodenticide formulation from Bayer will provide options for control in open areas as well as reduce the likelihood of secondary poisoning in other species.
Richard Moseley, Bayer technical manager

There is also a chance to get your hands on the most comprehensive, recently updated Pest Manual, that will be available, free of charge on the Bayer stand at the event.

"The manual is an essential identification tool for any pest controller. It contains a wealth of information for identification purposes and will aid in a successful integrated approach to pest control," says Richard Moseley, Bayer technical manager.

Collect your copy of the new
Pest Manual
Racumin Foam demonstrated
Pest controllers will have the chance to see the established Racumin Foam demonstrated on the stand. "We've seen great success with this, especially in difficult situations, where traditional rodenticides have failed. It's also easy to apply in hard to reach areas such as access holes, cavity walls and pipe-works," says Richard.

The foam is popular with pest controllers because it's a proven contact, first generation rodenticide, giving professionals more options when it comes to pest control. As the rat or mouse brushes past the foam, it's transferred onto the rodent's coat, where it is ingested into the blood stream during its grooming routine.
PestXpert app
Also on display at the event, is the tool that no pest controller should be without – the PestXpert app. It's free to download and includes a popular pest identification function, so that professionals are never in doubt about what pest they are faced with and how to treat it effectively.
Come and visit us
Visit Bayer at stand 88 at PestEx 2017 on 22 and 23 March at the Excel Centre, London, where the Bayer Pest Solutions Team will be on hand to offer expert advice and guidance.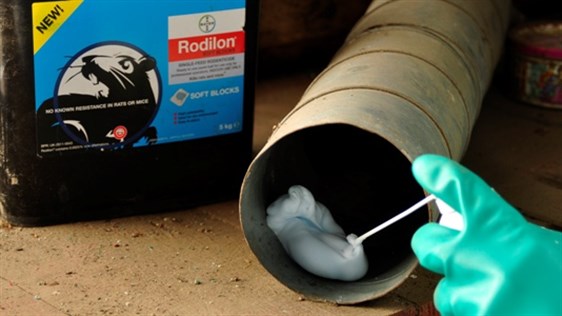 Racumin Foam is ideal for use as part of an IPM programme