BPCA has announced the winner of the #BestPestPic2020 competition, which took place at PPC Live in Harrogate.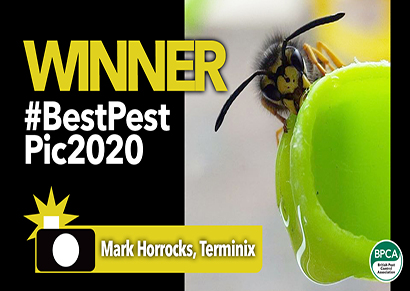 Mark Horrocks, a pest management technician from Gloucestershire, won the Association"s competition to find the best image of public health pest control.
Entries were shortlisted by the BPCA staff team, with the top 11 entries put on display at PPC Live 2020.
The winning photograph was then picked by a panel of judges from across the pest management industry, as well PR and photography experts, and announced at the event.
The judges were:
Simon King, editor, Pest magazine
Jane Shepherd, managing director, Shepherd PR
Clive Boase, managing director, The Pest Management Consultancy
Scott Johnstone, marketing and communications manager, BPCA
Clark Smith-Stanley, photographer and aviator, Profile Studios.
Mark Horrocks said he was delighted to win.
"I took the photo because I was trying to demonstrate to a customer that wasps are not always to be feared, and that they are still important for the ecosystem," he said.
"I placed some honey on a clothes peg and the wasp did what came natural to it, so I had to get a shot of it. I didn't expect to win, it came as a shock."
Ian Andrew, BPCA's chief executive, added: "We had so many wonderful entries to the competition, but our judges were particularly impressed with Mark's photograph.
"We wanted to celebrate the important work that our sector does to protect public health and Mark's entry, plus all the other entries, certainly did that."