MPs, Lords, project donors, environmental groups and other interested parties gathered in the River Room of the House of Lords on 7 September. The group, joined by Her Royal Highness The Princess Royal, was celebrating the success of Phase I trial baiting to rid the sub-Antarctic island of South Georgia of rats.
The South Georgia Heritage Trust, a Scottish registered charity, has funded the project almost exclusively from foundations and other private sources. Patron of the Trust is HRH Princess Anne.
Project director, Anthony Martin, Professor of Animal Conservation at the University of Dundee, Scotland, presented an overview of the initial baiting and raised interest in Phase II, scheduled for 2013-15. This would complete baiting of 18 zones on the island with the aim of saving the native South Georgia pipit from extinction and restoring the sub-Antarctic island to its earlier status, as one of the most important seabird island in the world.
Bell Laboratories has supported the project by shipping 58 tons of specially formulated pelleted brodifacoum bait which was broadcast by helicopter in March 2011 on three adjacent areas that surround the only inhabited part of the island.
Representing Bell at the reception was European business director, Rupert Broome, accompanied by Madison-based technical director, Peter Martin who said: "It was a real honour for us to be included in the House of Lords event. The Princess Royal expressed appreciation of Bell's contribution in accomplishing this important task."
Pest featured this work on South Georgia in a previous issue (Issue 14 March & April 2011). To read the article click here.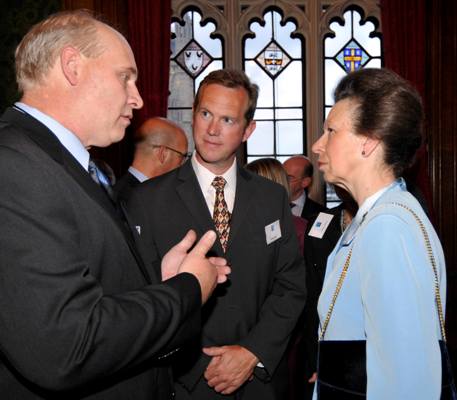 HRH Princess Anne listens intently as Bell's technical director, Peter Martin, (left)
and European business director, Rupert Broome (centre) discuss Bell's involvement
in the South Georgia project