The date for the 2017 PestTech event, the first to be held at the Ricoh Arena in Coventry, has had to be changed. The event will now be held on Wednesday 15 November so mark your diary and don't miss it.
The change has been forced upon organisers, the National Pest Technicians Association (NPTA), by the Ricoh which has won a lucrative deal to host the Champion of Champions Snooker tournament in the week of 6 November 2017, when PestTech should have been held.

Whilst it is irritating, the date change has come early enough in the planning cycle for it not to make much difference, especially in a year when there is no event in Paris.

Going forward, if the Ricoh retains the snooker in 2018 there will be no clash as PestTech will revert to its usual position of the first Wednesday in November.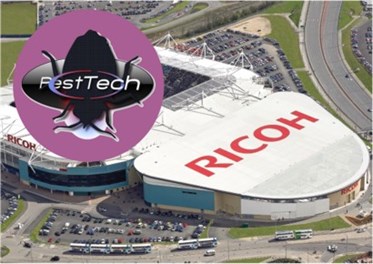 PestTech 2017 will now be held at the Ricoh Arena, Coventry on Wednesday 15 November 2017
It was only moved to the second Wednesday to give exhibitors chance to recover from the USA PestWorld event, which continues until Friday 27 October.
Whilst for those of us in the professional pest management business there's nothing more important than our event but, you can definitely see why the Ricoh has chosen to go with the televised snooker tournament even at the risk of upsetting its newest customer, PestTech. Commercially much as we'd like it to think it could, pest control can't compete with sport and live TV coverage.